How to Install a Car Battery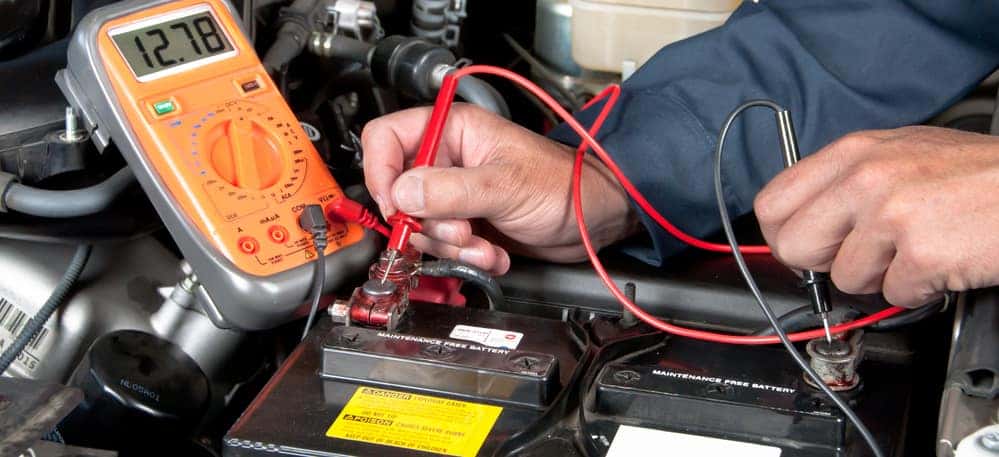 ---
---
If you're looking for "car battery installation near me" in Long Island or Plainview? The team at Rallye Motors is happy to be of service. Not only do we offer battery service in Roslyn, but we're happy to offer our best tips for how to install a car battery from home. With the right tools and technique, you can install your brand new battery without leaving your garage in Syosset!
Supplies You'll Need
First, you'll need to gather the right supplies. If you're missing anything, feel free to swing by our parts center!
Wrenches
Battery cleaning solution
New battery
Wire brush
Pliers
Anti-corrosion spray
Removing the Old Battery
Next, you'll need to take care of the old battery.
With the engine turned off and the parking brake activated, open the hood and look for the battery.
Loosen the nut connecting the negative cable (black) with your wrench.
Twist and pull the cable off, but be careful not to use excessive force. This can damage the battery.
Repeat the process for the positive cable (red).
Loose and remove the battery hold-down clamp to free the battery.
Remove the old battery carefully with both hands.
Use battery cleaning solution to remove corrosion in the battery tray, hold-down clamp, and battery cable connectors. You can also use a baking soda and water solution.
Installing the New Battery
Finally, it's time to install the new battery and make sure it's secure.
Grab the new battery and place it in the battery tray.
Tighten the hold-down clamp to secure it in place.
Spray anti-corrosion solution on the positive and negative terminal to help prevent future corrosion from developing.
Attach the positive cable (red) and then the negative cable (black).
Check your work. Make sure the connections are secure and that the battery is stable.
Start the car and see how the new battery works!
Car Battery Installation Near Me
Learning how to install a car battery can be tricky, so if you need any help, feel free to contact us for advice! Our experts can guide you through every step of the process. What if you'd prefer to let the experts handle it? Schedule your service with Rallye Motors and we'll take care of everything!
More From Rallye Motors
The 2022 Mercedes-Benz GLS is a full-size SUV that comfortably seats seven people. The new Mercedes-Benz GLS weight capabilities, cargo volumes, and space-saving features are sure to impress — along with the reasonable price-tag. Learn more about the Mercedes-Benz GLS dimensions below, and how this spacious luxury SUV can make your family's trips around…

Due to hit lots around Long Island spring, the upcoming 2022 EQB SUV pairs a high-performance all-electric powertrain with an exquisitely designed cabin that's every bit as innovative as its performance. Take a moment to learn about some of the feature highlights you can expect on the EQB. Then, apply for financing in advance and…

You already know about the incredible 350-mile electric range of the EQS, and you've probably heard tell of cutting-edge interior tech like the 56-inch high-tech glass Hyperscreen. Now, it's time to explore the 2022 EQS sedan colors, so you can start thinking about which EQS interior colors and EQS exterior colors you'd like to…