What Happens If You Don't Change Your Oil?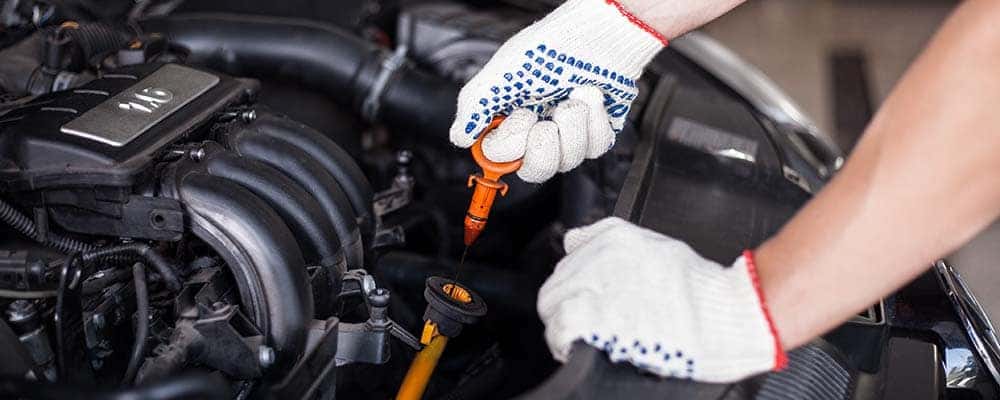 When you don't change the oil in your vehicle, nothing is absorbing the heat from the engine, pistons, and other components fo the engine block. Your engine can start to have some serious issues without it to keep things working smoothly. Having your oil changed means keeping your car running properly on the Plainview streets longer.
What Does The Oil Do?
Not only does it lubricate the engine, but it absorbs the heat from the engine components and carries it away to avoid overheating. Not having fresh oil to replace the old can also mean the pistons can weld themselves to the cylinders as the heat has nothing to absorb it. Having fresh oil put into your vehicle means keeping your engine in top shape. If you don't change out the oil, the dirt and debris it picks up while moving through the engine can be too dirty to work effectively. And when it doesn't work, your engine can overheat, causing more serious issues to your vehicle.
How Often Should I Change My Vehicle's Oil?
Typically, you should have your oil changed every 3 months if you don't want to wait for 3,000 miles to hit first, but every vehicle is different and every driver is different. If you drive longer distances more often than not, you might want to think about having your vehicle changed more often to keep it running smoothly.
How Do I Change It Myself?
Start by purchasing the right type for your vehicle. Once you have that and everything else you need, you'll want to drain the old oil from the vehicle. After it's out, make sure to secure the cap and you can start adding the new lubrication. Fill it slowly and be sure to check the oil levels periodically to ensure it's not too low or too high when you've finished.
Learn more at Rallye Motors
Learning what happens if you don't get your oil changed can help you better care for your new vehicle. And when it comes time to have it changed, keep Rallye Motors in mind. At our service center, our friendly technicians can have your vehicle cleaned out and ready to drive off on the Long Island roads in no time. Contact us today to schedule an appointment, and be sure to check out some of our other helpful service tips like what to do when your car is leaking. Be sure to explore our guide to regular maintenance!
More from Rallye Motors
The Mercedes-Benz E-Class lineup is no stranger to the Long Island roads and Plainview drivers have fallen in love with its elegant style, performance, and design. Most notably, the latest 2020 E-Class interior combines everyday practicality with upscale refinements to create a driving experience like no other. Take a closer look at the Mercedes-Benz E-Class dimensions…

In need of a high-powered luxury SUV? What about a family-friendly model that can seat up to seven? The 2020 Mercedes-Benz GLE lineup has a configuration that will match your lifestyle. When you're ready to learn more about the Mercedes-Benz GLE price, models, and features, browse our guide below! View InventoryLearn More 2020 GLE 350…

The 2019 Mercedes-Benz C-Class in an upscale sedan that delivers sophistication and luxury both inside and out. With multiple appointments and intelligent technologies, the new C-Class interior is dedicated to making your commutes and trips around Plainview and Long Island one of the most enjoyable parts of your day. Discover the features and premium materials that…